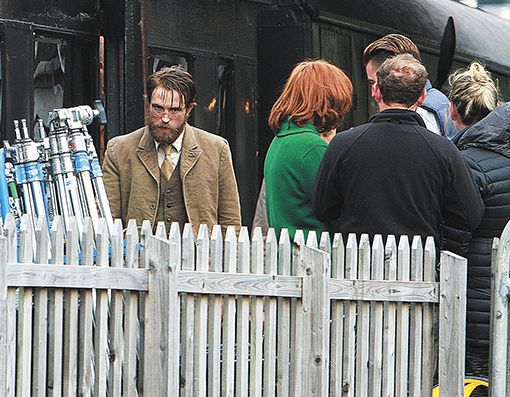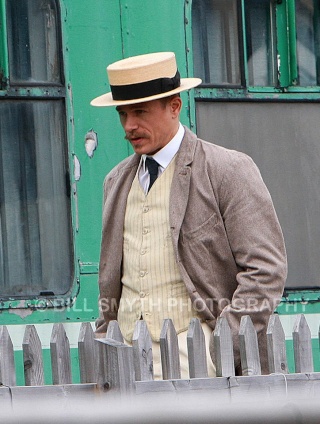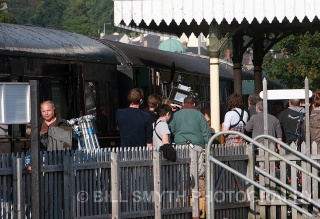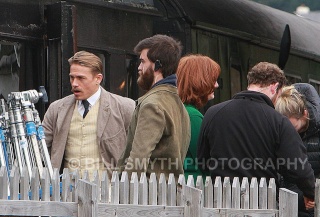 HOLLYWOOD A-listers lined the platforms of Downpatrick Railway Station last week as the tourist attraction transformed itself into a major film set.
Brad Pitt's blockbuster, The Lost City of Z, came to town, with heartthrob Charlie Hunnam and Twilight star Robert Pattinson bringing added glamour to the railway line.
The film, due for release next year, will tell the story of British explorer Percy Fawcett, who disappeared with his son in the Amazon while looking for an ancient city in 1925. Thousands of others died looking for the mythical city and Fawcett spent years building a scientific case for its existence.
In another filming boost for Down District, the Game of Thrones crew were also spotted in the area by an eagle-eyed fan. A field transformed into a winter wonderland outside Saintfield is thought to be connected to the filming of a key battle scene for series six of the worldwide HBO hit.
In The Lost City of Z, Sons Of Anarchy star Hunnam — who made headlines after ditching the lead role in 50 Shades of Grey — appeared on the Downpatrick set with a dapper moustache and slicked-back side-parting for the role of British explorer Fawcett.
Pattinson, co-starring as Henry Costin, can also be seen sporting a rugged beard, which has made him virtually unrecognisable from his teenage vampire film years.
Sienna Miller and Tom Holland completing the ensemble were also on the Downpatrick filming list.
The Lost City of Z is shooting across various locations in Northern Ireland over five weeks and will continue filming in Colombia throughout September and October.
Locations have been kept top secret but fans have been are on the look-out for the stars and posting shots online.
Robert Gardiner, from Downpatrick and County Down Railway, said the Hollywood filming was another boost for the volunteer-led tourist attraction.
"The crew was there from 5am to 9pm on Wednesday in what was a closed set," he said.
"The crew transformed one of the vintage carriages there into what they wanted. They wanted one straight out of restoration to hold chickens, cattle and pigs. We weren't able to provide them with that, but we did have an alternative.
"It was a 1925 built carriage, which made its last trip of the summer at the weekend. It is known as the 'Harry Potter' carriage due its side corridor and individual compartments.
"They did, however, take out some of the seats for wooden benches.
"We have had a number of major productions shot here, recently Christopher and his Kind with Matt Smith and Toby Jones in 2010 and The Wipers Times with Emilia Fox. The main PR picture for that one was taken at the railway."
Robert explained that trying to shoot on the national railway line would have been fraught with difficulties for the filmmakers.
"Here they did not have to work around scheduled trains and there was an awful lot of flexibility," he explained.
Neil Hamilton, museum curator, said it had been an exciting time for the volunteer crew.
"There was a couple of days to prepare the set and a full day to take it apart again," he said.
"We are the only place in Ireland where you can do this sort of thing.
"The crew were very friendly and they thought it was fantastic what we had here. There were well over 100 people here.
"It was a long, long day for some of the volunteers, including Chief Mechanical Engineer Norman Bodel. But it was a great accolade for the railway to do it, and already one of the production team said he was going to recommend us further.
Source:
http://www.thedownrecorder.co.uk/pages/?title=Hollywood%92s_bright_lights_roll_into_town
Source:
https://www.facebook.com/downrail/posts/1043327852352094
Via:
https://twitter.com/RobsPromotion

Zoe

Blog Specialist





Posts

: 2161


Likes

: 20


Join date

: 2012-11-03


Location

: England



---
Permissions in this forum:
You
cannot
reply to topics in this forum